Bring Your Own Talent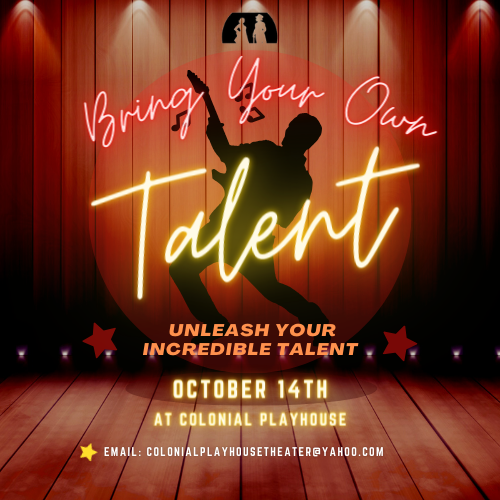 OCTOBER 14TH
Please join us for Colonial's BYOT (Bring Your Own Talent)
An Evening of Entertainment on Saturday, October 14
Does your judgmental inner voice keep you from trying new things? Now's your chance to show off your hidden talent! Come tell knock-knock jokes, sing that song you've been dying sing, play a little diddy on your guitar, banjo, or your instrument of choice, perform magic tricks, whatever your heart desires – within reason, of course.
You can finally try out that special skill you have been waiting to unveil. So dust off your music, magic wand, dance shoes, poetry books, impressions, monologue, comedy routine, and if you got nothing -- bring your hands to clap! We will give you 3- 5 minutes to hold the stage captive - no hook, no gong, no boos! If interested in performing contact  - do it, who cares how bad???
Doors open at 7. Donations at the door accepted. 5 dollar bills are great!
Show starts at 7:30!