The Best Christmas Pageant Ever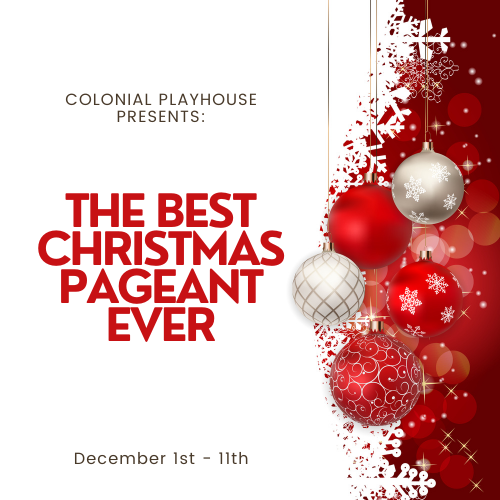 DECEMBER 1ST – 11TH: Evening performances start at 7:30pm; Matinee at 2pm
In this hilarious Christmas tale, a couple struggling to put on a church Christmas pageant is faced with casting the Herdman kids-- probably the most inventively awful kids in history. You won't believe the mayhem-- and the fun-- when the Herdmans collide with the Christmas story head on!
"An American classic."-- McCall's Magazine
"One of the best Christmas stories ever-- and certainly one of the funniest."-- The Seattle Times
This delightful comedy is adapted from the best selling book and the only story ever to run twice in McCall's Magazine.
Colonial Playhouse is located at Ridley and Magnolia Avenues in Aldan (522 West Magnolia Ave.), one block off of Oak Avenue and a five-minute walk from the Primos station of SEPTA's Media/Elwyn (formerly R3) rail line.
CAST
Father (Bob Bradley): JP Timlin
Mother (Grace Bradley): Annaliese Gove
Beth Bradley: Giana Gliko
Charlie Bradley: Dan Devine
Ralph Herdman: Rich Szymczak
Imogene Herdman: Brooklyn Elia
Leroy Herdman: Molly LaFountain
Claude Herdman: Colin Burke
Ollie Herdman: Everett Sumner
Gladys Herdman: Dylan Void
Alice Wendleken: Chelsea Flynn
Mrs. Armstrong: Kathryn Leech
Mrs. Slocum/Clausing: Katie Sapsis
Mrs. McCarthy: Kim Garrison
Maxine: Jane Gliko
Elmer Hopkins: Ella Newton
Hobie: Cole Schubert
David: Lauren Wickel
Beverly /Juanita: Grace Gliko
Shirley/Doris: Alice Newton
Reverend Hopkins: Jim Copeland
Firemen: Jack McGowan, D Void
Firemen: Rob Schubert, Jeff Gove
Choir Mistresses: Kate Sapsis, Kim Garrison
Show dates include eight performances between December 1 - 11, 2022.
For more information/any questions, send us an email to: [email protected]
**Please review our updated mask mandate on the home page of our website.**