The Manor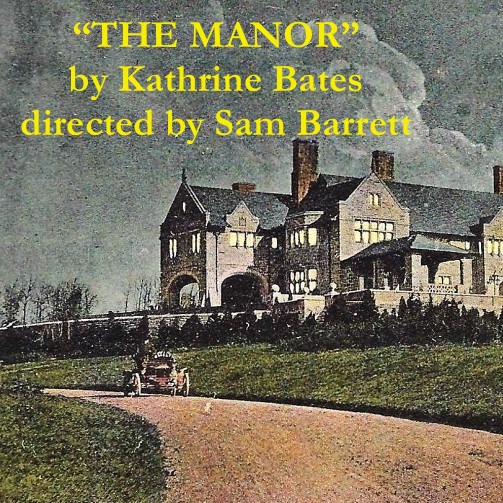 Back by popular demand!
Colonial Playhouse in association with Greystone Hall
is proud to announce 
the

 production of 

The

 

Manor

 by Kathrine Bates. 

 
Director Sam Barrett is looking for actors for this production. 6 men 6 women ages 20 - ?
Auditions are being held at 
Greystone Hall Saturday June 29 
10-12
Cold readings from 

the

 script.
If cast, actors must be able to travel to Greystone Hall.  
Many Sunday rehearsals will be held at Greystone Hall. 
ALSO -- looking for a stage manager for this production. 
The

 

Manor

 by Kathrine Bates

Set in 
the
 1920's this original play of a fictionalized story, inspired by true events, chronicles 
the
 triumphs and travails of 
the
 prominent MacAlister family as they ride 
the
tide of good fortune until an involvement in a political scandal sparks a downward spiral that ends in senseless tragedy. 
To lend authenticity to 
the
 tale, 
the
 show will be presented in 
the
 grand and glorious Greystone Hall in West Chester, PA. Audience members are led from room to room in 
the
 beautiful mansion as different scenes of 
the
 narrative are portrayed, leading up to a shocking murder suicide. 
CHARACTER DESCRIPTIONS

 1. Charles MacAlister:

 50's, ages to 60's. Mining tycoon. A charismatic, slap-on-

the

-back kind of guy with an easygoing manner, but with a power and ruthlessness lurking beneath that he draws on whenever necessary. Humble beginnings in Scotland, came here with a dream, but reached bottom several times. He always believed he had a greater destiny and never gave up… only to have his good reputation and success tarnished by scandal and heartbreak. 

2. Marion MacAlister:

 40's, ages to 50's. A woman of uncommon strength and character, her "proper" demeanor masks a heart that loves and protects with abandon. She adores Charles, revels in her home and family, and trusts her instincts - which at 

the

 moment tell her to be wary of Senator Winston.  

3. Sean MacAlister:

 20's, ages to 30's. Son and heir to Charles, and 

the

 apple of his eye. Adversity in his early years has given way to a life of ease and good fortune. Sean is comfortable with his position as family scion, though he lacks his father's brains and drive. He loves his new wife, Abby, and is happy to have found companionship with her friend, Greg. 

4. Abby MacAlister:

 19ish to late 20's. A sexy, mischievous, energetic gal, full of live and loving it - and why not? She's snagged one of 

THE

 most eligible bachelors in 

the

world, and life looks incredibly rosy. 

5. Gregory Pugh:

 Handsome, with a gentle, sensitive nature, he develops an immediate rapport with Sean. While Greg hits pay dirt when he and Sean hit it off, he is never motivated by that, but rather by a sense of belonging. His warmth and attractiveness are undermined, however, by a tendency toward nervousness and instability, exacerbated by his nagging wife, Henrietta. 

6. Henrietta Havesham Pugh:

 [cockney accent/sings one song] Greg's cutesy but annoying wife, she's thrilled at his new prospects. A low-born vaudeville singer, she's never had much, so she grabs whatever she thinks she can get. What may once have been adorably outrageous is now naggy and unattractive. She helps drive her agitated husband over 

the

 edge. 

7. Senator Alfred Winston:

 Charles' close friend since youth, Alfred's a good ol' boy politician who enjoys 

the

 trappings of power and uses them. Vainglorious and smug, his narcissism leads to a downfall he never saw coming. 

8. Cora Winston:

 Politely aloof, she enjoys 

the

 world her husband has created for her -- until 

the

 bottom falls out. Her comeuppance, however, is not a happy circumstance, for in her sorrow she reveals inner feelings that make her entirely sympathetic. 

9. Frank Parsons:

 Abby's father and Charles' lawyer, he played a hand in making sure his daughter ended up with Sean. 

10. James, 

the

 Butler:

 Delivers important prologue and epilogue; leads one of 

the

 audience groups and is a presence throughout. 

11. Ellie, 

the

 Maid:

 Confidante of Abby, Ellie doesn't speak. She is a mute witness to 

the

 goings-on, and functions as a liaison with 

the

 audience by interacting directly with them through facial reactions, gestures, etc. 

12. Ursula, 

the

 Housekeeper:

 Leads one of 

the

 audience groups, she will chat (ad lib) with 

the

 group as she leads them, imparting factual information about 

the

 

manor

(i.e. Greystone) and partaking in MacAlister family gossip.