The Adventures of Tom Sawyer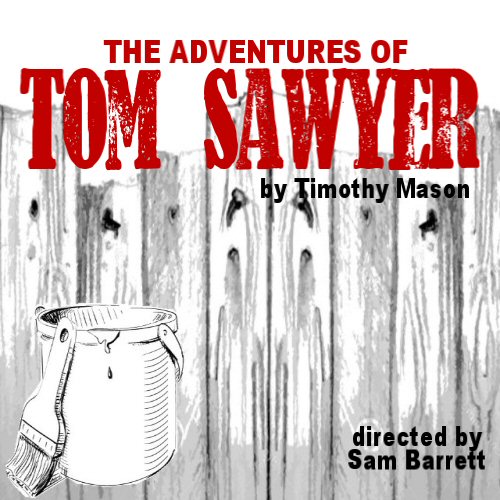 Join Tom Sawyer, Huckleberry Finn and Becky Thatcher in the greatest summer adventure ever told in this imaginative, highly theatrical adaptation of Mark Twain's incomparable classic.
Featuring the thrill of mischief-making, the fickleness of first love, the cold shivers that linger after an adventure gone very wrong, and the unbridled joy at discovering real buried treasure, this story is for anyone who has ever been a kid and celebrates all that is grand and glorious about childhood!
Delco premiere!!
Cast
Tom Sawyer  - Isabella Ursone
Huck Finn - Kayla Teplica
Mark Twain - Jake Sloss
Aunt Polly - Gwen Armstrong Barker
Sid - Daniel Brittain
Jim - Kyla McKnight
Muff Potter - Sean Wiley
Injun Joe - James Hulme
Doc Robinson - Bill Haburcak
 Dobbins - Annaliese Gove
Becky Thatcher - Violet Wiley
Joe Harper - Josh Ursone
Rev. Forbes - Kathryn Leech
Judge Thatcher - Bill Haburcak
Mrs. Harper - Ruth Brittain
Prosecutor - Jessica Kohn
Defender - Patrick O'Neill
School Children - Chase Barker, Gabrielle Gove, Avalon Leech, Rhiannon Baldini, Molly Gray and Elisabeth Teplica
Townspeople - Ally Batot, Eileen Wiley, Jen Ursone
Singers - Dotti Bobst  and Patrick O'Neill
Crew
Stage Manager - Robin Cashin
Lights - Ian Gove
Costumes - Gabrielle Gove
To purchase tickets, click on the box below, then choose your date from the drop-down menu.
Then click on "Add to Cart" and you will be redirected to the PayPal Shopping Cart site where you can complete your purchase. 
Thank you!