Steel Magnolias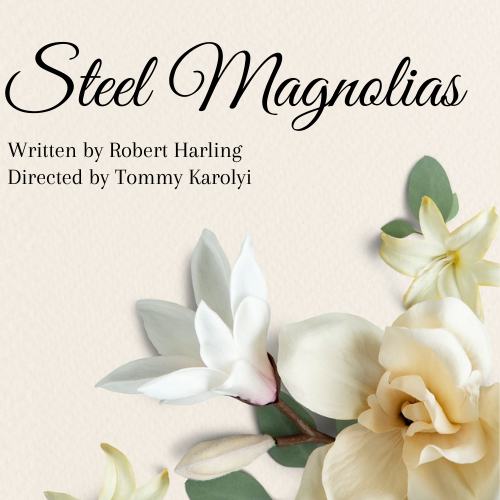 A fan-favorite play-to-movie classic! Truvy's salon in Chinquapin, Louisiana's go-to place for a beauty fix with a hearty side of gossip. Along with her overeager assistant Annelle, Truvy pampers her small-town clients with hairdos, manicures and all kinds of unsolicited advice. Anybody who's anybody is a regular: There's the doting M'Lynn and her soon-to-be-married daughter Shelby, the moody Ouiser and the well-to-do widow Clairee. Through witty banter and wisecracks, this hodgepodge group of women form friendships as strong as steel, which they are forced to lean on when tragedy strikes.
Director Tommy Karolyi is looking to fill the following roles: 
Truvy Jones – 25 to 45. Owns the town beauty shop, Vivacious, knows everyone's business and shares it with
anyone who will listen. Dispenses advice with lots of hairspray.
Annelle Dupuy Desoto – 18 to 24. Very shy, newly hired assistant. Moves from unsure to wild to religious.
Clairee Belcher – 55 to 60. Widow of former mayor. Grand dame. Sarcastic member of the group. Elegant,
sophisticated. Loves to laugh and poke fun at the little things others cry over.
Shelby Eatonton Latcherie – 19 to 24. Prettiest girl in town. Loves pink. Strong willed, passionate.
M'Lynn Eatenton – 40 to 50. Shelby's mother. Over protective at times. Always knows what's best. Strong,
stubborn, the heart of the piece.
Ouiser (pronounced Weezer) Boudreaux – 55 to 60. Wealthy curmudgeon. Tough, eccentric character.