Steel Magnolias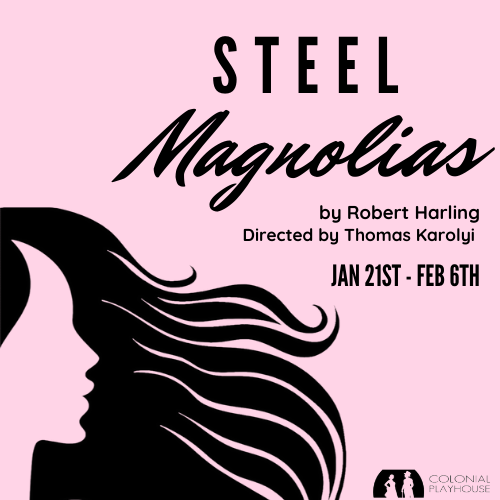 JANUARY 21st – FEBRUARY 6TH
A fan-favorite play-to-movie classic!
Directed by Thomas Karolyi, this classic is sure to pull at your heartstrings.
Truvy's salon in Chinquapin, Louisiana's go-to place for a beauty fix with a hearty side of gossip. Along with her overeager assistant Annelle, Truvy pampers her small-town clients with hairdos, manicures and all kinds of unsolicited advice. Anybody who's anybody is a regular: There's the doting M'Lynn and her soon-to-be-married daughter Shelby, the moody Ouiser and the well-to-do widow Clairee. Through witty banter and wisecracks, this hodgepodge group of women form friendships as strong as steel, which they are forced to lean on when tragedy strikes.
The Cast
Truvy Jones

: Annaliese Gove
Annelle Dupuy Desoto

: Gabrielle Gove
M'lynn Eatenton

: Cathy Mostek
Shelby Eatonton Latcherie

: Christine Furey
Ouiser "Weezer" Boudreaux

: Anne Allen
Clairee Belcher

: Annette Devitt
**By popular demand, we have added a date! Sunday, Feb 6th Tickets now available!**
Buy your tickets now!