Colonial Playhouse Suspends Remainder of 2019-2020 Season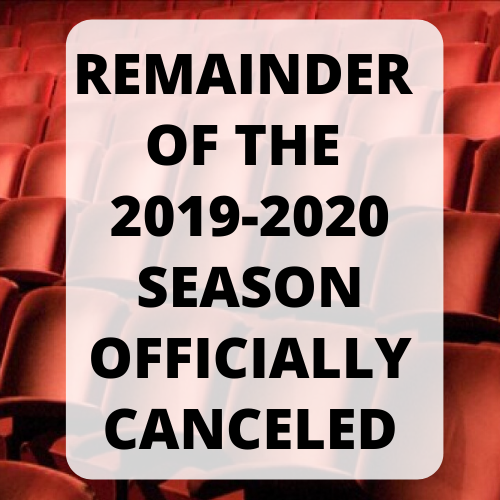 We plan to re-schedule these productions for next season
After much consideration, Colonial Playhouse announces that, due to the rapidly unfolding situation with COVID-19 (coronavirus), and the uncertainty around when it will be safe to gather again in public, we regretfully must suspend the remainder of our 2019-2020 season.
Given the situation, there is simply not enough time remaining in this season to effectively audition and rehearse the productions that remain on our schedule.
However, we are not halting business operations! Our plans at this point –  assuming the virus passes and life resumes as a new normal emerges –  include re-mounting Requiem for a Heavyweight in September 2020 as we open our 2020-2021 season, with Unnecessary Farce scheduled for January 2021. Since these two plays have already been cast and rehearsed, we owe it to our casts and crews – and indeed, our audiences – to produce these theatrical gems.
We will announce the remainder of our 2020-2021 season in the coming weeks.
Depending on the situation with the virus, there may be opportunities later this spring or summer for Colonial to present our "second stage" offerings, including BYOT, 24 Hour Theater, our scheduled production of RFK, and others. Those performances will be announced as soon as it's appropriate to do so.
Season Ticket holders and those who have pre-purchased tickets for any performance this season will be contacted soon with updates on the status of their accounts.
For more information and updates, please check our website or monitor our social media outlets such as Facebook and Instagram. If you need to reach us, you may do so by email at colonialplayhousetheater@yahoo.com
We would like to take this opportunity to remind everyone that we all have a part in helping to stop the spread of COVID-19 by practicing good hygiene and encouraging social distancing.
We look forward to seeing everyone very soon!
Stay safe… and wash your hands!
The Colonial Playhouse Board of Directors