Colonial Quickies 2017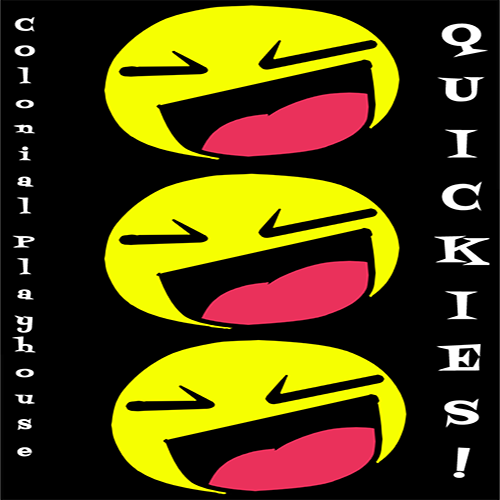 Here's this year's lineup:
Exceeding the Purchaseable Calories
by Rhea MacCallum, Directed by Jen Wolfe
Starring: Jessica McGowan, Gabby O'Neill & Chelsea Thompson
Leaving Nic
by Connie Schindewolf, Directed by ErinMarie Friel
Starring Elizabeth Ellis & Tom Karolyi
A Clean Dislike
by Alex Dremann, Directed by Jim Copeland
Starring Jean Marie Martin & Jen Wolfe
Wishes
by Mark Harvey Levine, Directed by Lauren Jones
Starring: Benjamin Kerr & Jessica Kohn
A Clean Routine
by John C. Davenport and Jaryl Draper,
Directed by Brandon Young
Starring: Jim Copeland, John Lockyer & Nancy Reeves
Aliens Saved my Marriage
by Sam Toll, Directed by Erin Marie Friel
Starring: Jackie Binder
Tag
by Mark Harvey Levine, Directed by Lauren Jones
Starring: ErinMarie Friel, Benjamin Kerr & Jessica Kohn
2 Bedroom ! Body
by Rob Carroll, Directed by Jack Kramer
Starring: Jon Brunke, John Devine & Arpy Jones
Epiphany
by David MacGregor, Directed by Kathy Quinn
Starring: Jim Hulme & Maddie McCormack
Jack Pork
by Donna Hoke, Directed by Ron Hill
Starring: Jim Copeland, Lauren Jones, Mike Winterode & Brandon Young
Tickets can be purchased through PayPal by clicking on the button on the right. Please print out your ticket or bring a screenshot of your purchase to the box office. Colonial Playhouse does not mail tickets that were purchased through PayPal.
We will be selling raffle tickets for various gift baskets throughout the Quickies. The baskets will be raffled off at the Magnolia Awards on Saturday July 8.  (You don't have to be present to win,  but come anyway, it's a fun night!) The more chances you buy, the better your chances of winning!