The Sting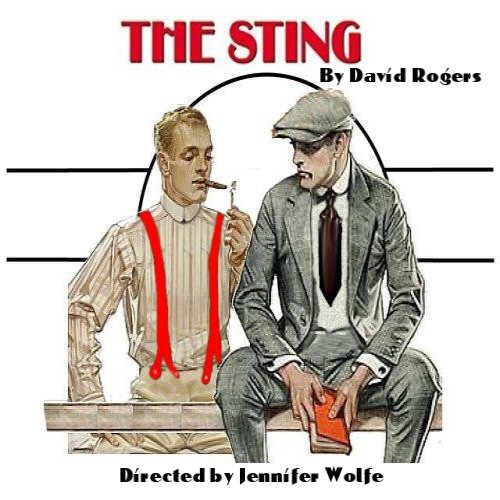 A brilliant adaptation of the movie making its area debut on the Colonial stage!
This show takes place in Chicago many years ago in a world of small-time hustlers and their girls—their money nonexistent but their ingenuity abundant. Johnny Hooker, a small-time grifter, joins a friend in a successful con of a "runner." Unfortunately for them, the runner works for a powerful, vindictive rackets boss, Doyle Lonnegan, who is infuriated and arranges the killing of Johnny's friend. Hoping to avenge this senseless murder, Johnny enlists the aid of the master con man Henry Gondorff. Together they decide to try the big con called "The Wire." Structured in classic style, their first move is "The Set Up." From there they proceed to "The Tale." The tension mounts as they succeed and, with the powerful Lonnegan half-hooked, go on to "The Shut Out." The excitement becomes explosive and a final scene, with switch upon switch upon switch, has your audience guessing and gasping as it builds to the final con movement, "The Sting!" This is a wonderfully theatrical and yet authentic exploration of a very special world.
CAST
Johnny Hooker - David Olsen Jr.
Henry Gondorff - Bill Murray
Doyle Lonnegan - Mike Winterode
Mrs. Vanderkieft - Catherine Fallon
Kid Twist, Jimmy - Jim Copeland
JJ Singleton, Pit Boss - Bill Haburcak
Alva, Ivy Niles - Rachée Fagg
Snyder - Sean Wiley
Combs, Polk - Jim Hulme
Luther, Jameson, Harmon, Man in Raincoat - Cameron Siler
Erie - David Moyer
Granger, Curly - George Webster
Mottola, Floyd - Jack Kramer
Billie - Susan Triggiani
Crystal, Loretta - Donna Kelly Romero
Miss Hastings - Gina Lerario
Groves, Mr. Clemens - Bill King
Rhoda, Four Star, Lola - Arpy Jones
Countess Boudreau, Dawn, Woman with Appointment - Julie Lacontora
Counting Girl, Ginger, Mrs. Lombard, Mrs. Richmond - Shelli (Edna) Thomas
Fern, Woman Gambler, New Waitress - Ally Batot