The Holiday Show!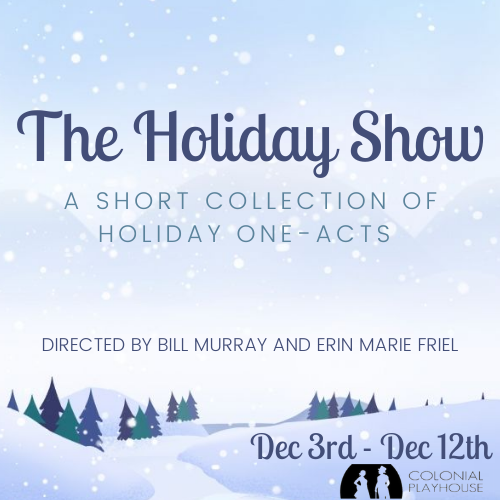 DEC 3RD – 12TH
'Tis the Season!
What's not to be jolly about with a collection of feel-good holiday plays? Directors Bill Murray and Erin Marie Friel have put together a show just in time for the best time of the year!
Featuring...
The Gift of the Magi (Based on the story by O. Henry. Adapted by Anne Coulter Martens)
This is a touching and beautiful story of a couple unable to afford presents for each other. Each sacrifices a treasure to provide a gift for the other but, in so doing, they work at almost tragically funny cross-purposes. This is a play about true love and the value of giving. Indeed, the Magi were wise—and their gifts were wise gifts, however foolish in the eyes of the practical.
Della: Liz McCallum
Jim: George Webster
Mrs. Boyd/Madame Sofronie: Kathryn Leech
Felice: Kathleen Murray
Mr. Hartman: Jim Hulme
Narrator: Bill Murray
and
An Implausible Claus (By Nikki Harmon)
The Ho-Ho Hotline is being answered by residents at a retirement home so that children can talk to Santa or Mrs. Claus. Meanwhile, Jensie, with her home computer, hacks into the phone company's data banks to find the address of the Ho-Ho Hotline and comes looking for Santa Claus. What she finds is Aaron Lefkowitz.
Mr. Lefkowitz: Jim Golden
Jensie: Ally Batot
Mrs. Crandell: Kathryn Leech
Get your tickets now!