Requiem for a Heavyweight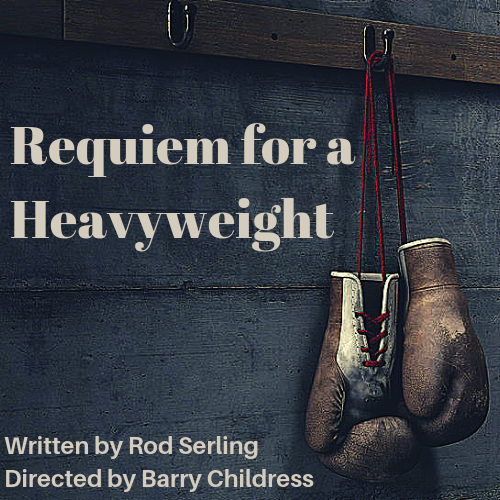 Auditions to be held on: Saturday, December 14th, at 10:30 AM
Audition Notice - Requiem for a Heavyweight
Written By Rod Serling
Auditions to be held on: Saturday, DECEMBER 14th, at 10:30 AM
We will use cold readings from the script.
At Colonial Playhouse; 522 W. Magnolia Ave.; Aldan, PA 19018
Characters: (2) Women, (12-13) Men (Some roles will be doubled)
Maish Resnick – Boxing Manager for "Mountain"; cold, calculating, but guilt-ridden and sensitive. Desperate for cash, he'll sell a friend to save his neck…and it tears him up inside (50s)
Army Hakes – Ex-Fighter, now a corner-man with a big heart. He is loyal to "Mountain" (40s)
Harlan "Mountain" McClintock – A proud, but broken-down fighter at the end of his career; Trusting, gentle, and loyal – boxing is all he knows (30's)
Grace Miller – A social-worker trying to help "Mountain"; she feels compassion for him, and falls in love with him (Late 20s – 30s)
Golda – A tough hooker well past her prime, with a soft spot for Maish (40s)
Max Greeny – A parasite; he finds and sells boxers to boxing managers like cattleman sells beef. Cold, calculating, predatory (40s to 60s)
Leo Loomis – Cutthroat Boxing Manager; he uses desperate boxers way past their prime.
(50s-60s)
Perelli – A wrestling promoter; a sleaze and an opportunist (30s-50s)
Doctor – Retiring from the boxing racket, he's seen it all – he's seen too much (60s)
Charlie – A good natured bartender at a seedy dive-bar the fighters frequent (50s-60s)
Morrell – An ex-fighter; punchy and long past it (40s)
Counterman – (Age Open)
Policeman – (Age Open)
Fighters – Three others like Morrell; all goners (Late 30s-40s)
The Kid – A young boxer that Maish wants to manage, talented but lacks training. He's the next "victim" of the boxing trade (early 20s)
ALL the roles are gritty, earthy characters. And some will require multiple parts.
Rehearsals will be one week night (TBD),
& either a Saturday morning or Sunday afternoon each weekend.
Please direct any questions to:
Barry Childress at upstart1201@verizon.net
ABOUT THE PLAY
Mountain McClintock is an aging fighter who doesn't know when to quit. McClintock is a trusting soul, and his innocence proves his ultimate undoing as his conniving manager dresses him as Daniel Boone and enters him as a comic relief on the wrestling circuit. After a drunken rampage upon discovering the manager's treachery, Mountain arrives at a decision that enables him to recover something of his damaged pride and self respect.