Requiem for a Heavyweight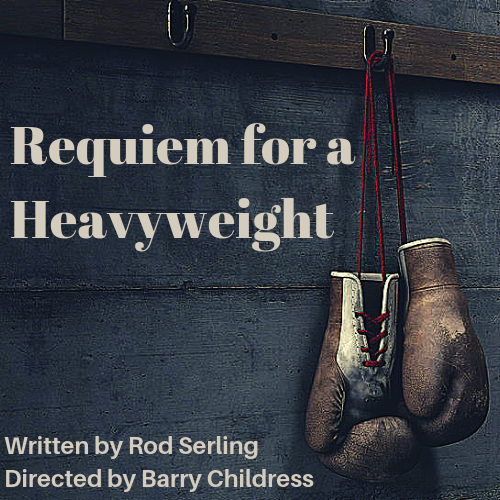 OCTOBER 1ST – 16TH
We're opening our 2021-2022 season and coming back to Requiem for a Heavyweight, directed by Barry Childress.
The legendary creator of the Twilight Zone originally wrote this script as a teleplay for the ground-breaking television series Playhouse 90.
Harlan "Mountain" McClintock, a once-promising but now washed-up boxer, burned out after years in the ring, faces the end of his career after he is savagely defeated by a younger boxer.
McClintock is a trusting soul, and despite betrayal and humiliation by his conniving manager, he regains his damaged pride and self respect with the help of a young social worker.
CAST
Maish Resnick - Bill Murray
Army Hakes - Michael Tait
Mountain McClintock - Sean Wiley
Grace Miller - Erin Marie Friel
Golda - Liz McCallum
Max Greeny - Jim Hulme
Leo Loomis - Jim Copeland
Perelli - Mike Winterode
Doctor/Extra - George Webster
Counterman / Charlie the Bartender - Bill Haburcak
Fighter / Policeman - Chuck McCallum
Morelli / Fighter  -
The Kid -
Buy your tickets online here: