Mama Won't Fly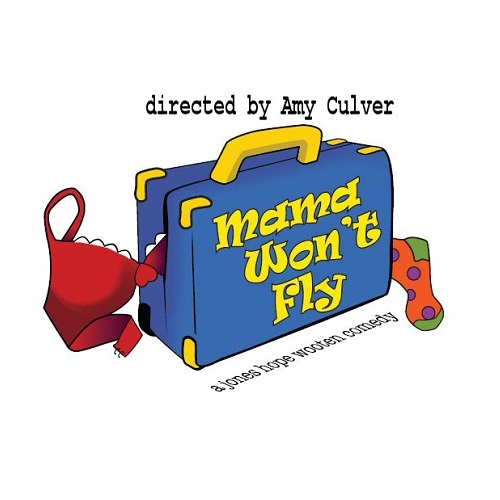 Written by Jessie Jones, Nicholas Hope, and Jamie Wooten
Directed by Amy Culver
An outrageously hilarious race against the clock begins when Savannah Sprunt Fairchild Honeycutt agrees to get her feisty mother all the way from Alabama to California in time for her brother's wedding. Savannah's problem: Mama won't fly. With only four days to make it to the ceremony, this determined daughter has no choice but to drive across country with her equally willful mother, Norleen Sprunt, in Mama's vintage sedan. As Savannah steels herself for this hastily conceived road trip, another outrageous complication arises: the bubbly, over-eager bride-to-be arrives unannounced. Hayley Quinn, delighted to finally meet her future in-laws, is convinced travelling together to her wedding is the perfect way to bond. The folly of her decision quickly becomes apparent when the journey begins and comedic chaos ensues. Every conceivable - and inconceivable - mishap that can occur does. As the misadventures multiply, the beleaguered trio rapidly develops the urge to ditch each other anywhere along the way.
This show is has several fun roles. So we encourage everyone to try out! 
Additional auditions will be held Sunday January 29th at 6:30 for anyone who was unable to attend the audition on the 23rd. 
Call backs will be held January 30th at 7 pm.
Tickets can be purchased through PayPal by clicking on the button on the right. Please print out your ticket or bring a screenshot of your purchase to the box office. Colonial Playhouse does not mail tickets that were purchased through PayPal.
Director Amy Culver seeks several actors for the upcoming play Mama Won't Fly. The show runs May 5th through May 20th. Tech Sunday is on April 30th and tech week is the rest of that week.
As you can see below, there are many roles. The play was meant to double cast, but I'd really like to give everyone a role as they are all so fun in their own way. Depending on audition turn out, some roles may be double cast. Also, some of you will need to be a part of the tech crew.
For auditions, please prepare a 1-2 minute comedic monologue. Auditions will start at 7:00 pm at Colonial Playhouse. Auditions are on a first come, first serve basis. Comebacks will consist of cuts from the show.
Not all roles require an accent, however the show does take place in the south. Alabama, Mississippi, and Texas. Those roles should have some accent. They are different accents and that is something that can be worked on in rehearsal. The roles in Las Vegas, Red, the truck driver, and maybe even Juilette don't necessarily need an accent.
If you have questions about the audition, please email Amy Culver at auditions@colonialplayhouse.net
All roles are on a volunteer basis and unpaid.
Female Roles
Savannah Honeycutt - 30s-40s - feisty businesswoman who lives in Alabama and is about to fly to California for her brother's wedding. She has a somewhat strained relationship with her mother as unexpectedly she drove away the love of her life.
Norleen Sprunt - 60s-70s - a spirited, tenacious realtor. Big hair, flashy dresser.Savannah's mother.
Hayley Quinn - 20s-30s - Savannah's sister-in-law to be. High energy, nervous about meeting her new family. Tries her best to fit in, but sometime she tries too hard. She is very much in love with Walker, Savannah's brother.
Tanya Dudly - 50s, 60s, Norleen's friend and theater partner
Aunt Rema Jean - 40s-50s - a fun-loving country matron from Texas
Kiki - 20s-30s - bimbo about to marry Ronald in Las Vegas, mostly for his money or because she's drunk.
Essie - 60s - 80s - operates a brasserie museum in the middle of nowhere Mississippi. Essie is eccentric but passionate about the history of bras and undergarments.
Great-Aunt Pawnee - 80s-90s - wheelchair bound. Slaps people as symptom from her stroke.
Edweena - 18+ - protester of the bar, Nickel Bone
Fanny - 18+ protester of the bar with Edweena.
Sybil - 50s - 60s - well-dressed woman who is actually Ronald's wife and interrupts the nuptials.
Aunt Ardale - 40's-50s, a bible-toting golddigger that is dressed in her SUnday best when the road trip gang arrives in Texas.
Juliette - 40's - 50s - barfly
Teeta - 40s-60s - tough showgirl who is officiating Ronald and Kiki's wedding. She is not at all interested as she does this all day long.
Male Roles
Denton Crocker - 60s-70s, Norleen's handsome mechanic
Cousin Chicken - 50s-60s - in a world of his own. Wears western gear and carries a mayonnaise jar with him that is his former girlfriend, a lunch lady.
Mitch - 40s -50s - rugged, gregarious, full of cowboy charm. Mickey's brother. They argue over whether the bar is an Irish bar or a saloon.
Officer Dugger - 50s-60s - world-weary, all business, ready to retire kind of officer.
Ronald - 50s-60s - upscale gentleman who is in Las Vegas to marry a woman who way to young for him.
Kelvin - 20s-40s - concierge at hotel in Las Vegas. Snarky and disdainful.
Uncle Ferd - 60's-70s - kind of an oddball, but so is the whole Texan family.Uncle Ferd is also a dancing fool.
Mickey - 30s - 40s - Barkeep of "Nickel Bone Bar, TX" welcoming, wears a leprechaun hat and apron. Speaks in Irish brogue (to the best of his ability)
Red - 20s-50s - truck driver, over-caffeinated, drives likes a maniac, drinks coffee from a thermos while driving. Picks up the girls after they have "changed" into their costumes.
Spud - 30s -40s - "the one that got away" for Savannah. On their road trip to the wedding Savannah meets up with Spud and finds out why it wouldn't have worked out - Spud is now a cross dresser.