Holiday Extravaganza: An Evening of Stories and Songs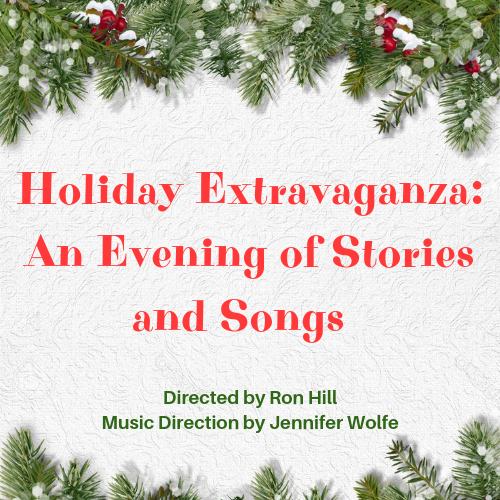 Fun, festive, and unique! The perfect holiday entertainment!
Plays by Mark Harvey Levine
Directed by Ron Hill
Music Direction by Jennifer Wolfe
Carols and Songs throughout the evening,
ending with a Sing-Along
Plays:
OY VEY MARIA
Mary: Caroline Fuimano
Ann: Dinky Lowenthal
Joseph: Stephen Jones
King 1: George Webster
King 2: Sam Dressler
King 3: Julie Lacontora
Drummer Boy: Paige Jones
Joachim: John Vicente
Jewish Moms & Friends: Maddie McCormick, Arpy Jones, Lauren Wickel, Liz McCallum, Shelby Seidman, Charlotte Miller, Kira Hecht, Eliana DiPasquale
YOU BETTER WATCH OUT
Joel: Sam Dressler
Holly: Arpy Jones
General Merriment: TBA
Major Holiday: George Webster
Private Celebration: Stephen Jones
Santa: John Vicente
CHRISTMAS MEDLEY: Charlotte Miller    (music)
A VERY SPECIAL HANUKKAH SPECIAL
Narrator: John Vicente
Murray: George Webster
Kim: Julie Lacontora
Max: Maddie McCormick
Boy: Shelby Seidman
Carolers: Caroline Fuimano, Liz McCallum, Arpy Jones, Sam Dressler, Eliana DiPasquale, Kira Hecht, Paige Jones, Stephen Jones, Lauren Wickel
Judy Maccabee: Dinky Lowenthal
Songs include:
Away in a Manger, We Three Kings, Little Drummer Boy, Silver Bells, It's Beginning to Look a Lot Like Christmas, I Have a Little Dreidel, Hanukkah, Oh, Hanukkah, African Noel, Rudolph the Red Nosed Reindeer, It's the Most Wonderful Time of the Year, Merry Christmas Darling, Blue Christmas, Even Santa Gets the Blues, I Heard the Bells on Christmas Day, Pat-a-Pan, Here We Come A-Wassailing, and a sing-along at the end!