Barefoot in the Park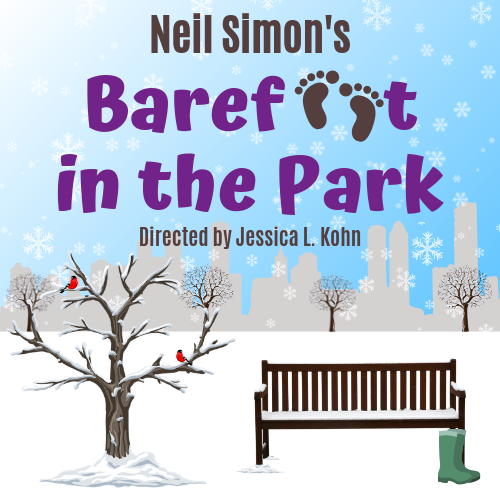 Auditions on Monday, June 3 beginning at 7pm
We are holding auditions for the opening production of its 2019-2020 season, the Neil Simon romantic comedy "Barefoot in the Park," on Monday, June 3 beginning at 7:00 p.m.
 
Director Jessica Kohn seeks 3 men and 1-2 women of varying age ranges for the September/October 2019 production. All roles are open except those of Paul Bratter and Corie Bratter. Auditions will consist of a short comedic monologue of your choosing (no more than two minutes) and cold readings from the script. Please bring any scheduling conflicts with you.
 
Production dates are September 20, 21, 22, 27, 28, 29, October 4, 5. Actors must be available for all performances. Rehearsals will primarily be on Sundays, Tuesdays, and Thursdays beginning in June.
 
Colonial Playhouse is located at Ridley and Magnolia Avenues in Aldan (522 West Magnolia Ave.), one block off of Oak Avenue and a five minute walk from the Primos station of SEPTA's Media/Elwyn (formerly R3) rail line.
 
Please feel free to contact director Jessica Kohn at pumpkinboys99@yahoo.com  with any questions.
Synopsis: Paul and Corie Bratter are newlyweds in every sense of the word. He's a straight-as-an-arrow lawyer and she's a free spirit always looking for the latest kick. Their new apartment is her most recent find – too expensive with bad plumbing and in need of a paint job. After a six-day honeymoon, they get a surprise visit from Corie's loopy mother and decide to play matchmaker during a dinner with their neighbor-in-the-attic, Velasco, where everything that can go wrong, does. Paul just doesn't understand Corie, as she sees it. He's too staid, too boring, and she just wants him to be a little more spontaneous. Running "barefoot in the park" would be a start.
 
The following roles are still available:
 
Ethel Banks: Female, 40-65y
Corie's cautious mother who is willing to endure anything for her daughter, even a strange escapade around New York City.
 
Victor Velasco: Male, 30-60y
The Bratters' eccentric, bohemian neighbor who lives in the attic of the brownstone, just above their apartment.
 
Telephone Man: Male, 30-50y
A good-humored man who makes observations on everyday life and relationships as he installs and fixes telephones.
 
Delivery Person: Male or Female, 45-65y
An older person who brings wedding gifts sent to the Bratters - and is exhausted by all the flights of stairs leading up to the apartment.
 
Hope to see you there!