The Sting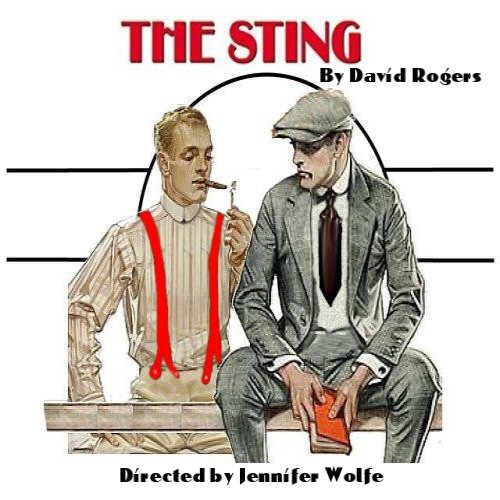 Auditions for "The Sting" on Monday May 14 at 7pm
Director Jennifer Wolfe is looking for a large, diverse cast. Most of the actors will be asked to play multiple roles.
The audition will consist of readings from the script.
Performance Dates:
September 21, 22, 23, 28, 29, 30, 
October 5
, 6
Rehearsals will be held throughout the summer. (Most likely 
Sunday
, Tuesday, and 
Thursday
 evenings until tech week). Please bring any conflicts to the auditions.
Characters:
Johnny Hooker - a grifter
Henry Gondorff - a con man
Doyle Lonnegan - a shady businessman
Mrs. Vanderkieft - an older woman with memories
Billie - the owner of a Chicago dance hall (40's ish)
Groves - a butler
Cynthia Hastings - a writer
Mottola - a numbers runner in Joliet
Granger - manager of the numbers spot in Joliet
Fern - his secretary
Combs - his boss
Ginger - Combs's secretary
Erie - Hooker's friend and fellow grifter
Luther - Hooker's older friend, fellow grifter and mentor (preferably African-American)
Alva - Luther's wife  (preferably African-American)
Rolanda - Luther's granddaughter  (preferably African-American)
Four Star - a pawnbroker
Dawn - a Burlesque card girl
Crystal - a dancer
Jimmy - a Twenty-One dealer
Maxie and Digger - Lonnegan's bodyguards
Floyd - Lonnegan's assistant
Snyder - a detective from Joliet
Polk - special FBI agent
Kid Twist, Ivy Niles, JJ Singleton - Con artists
Curly Jackson - a grifter who does a decent English accent
Rhoda Garfield - a shady real estate agent
Countess Boudreau - Chicago gambling queen
Mr. Clemens - conductor on the Century Limited
Mr. Jameson, Mrs. Lombard, Mr. Clayton - poker players
Dolores, Roxie, Cigarette Girl, Fiskin and Cowan - Members of The Boost (part of the con)
Loretta - a waitress
Mr. Harmon - manager of a Western Union store
Miss Richmond - his secretary