A Funny Thing Happened on the Way to the Forum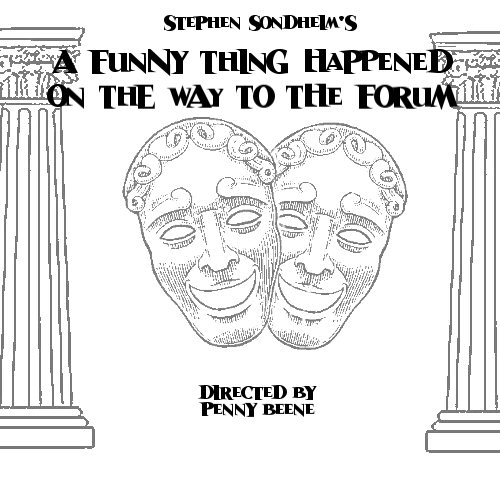 Auditions on January 21, 22, and Jan. 27
All roles are open for any gender and any ethnicity.
Director Penny Beene and Music Director Michael Barclay will host Auditions the below dates 7pm at Colonial Playhouse:
Monday, January 21st for singing and dancing
Tuesday, January 22nd for singing and cold readings
*Sunday, January 27th for singing, dancing and cold readings.
*Please note Sunday's auditions are held at Romarco's at 451 Baltimore Ave, Clifton Heights PA from 1pm - 6:30pm
Auditioners are asked to prepare 8-16 bars of music (45 seconds max.)  We will have an accompanist available if you have sheet music.  We will also have sheet music from Forum, if needed.  You may also sing acapella.
Auditioners are also asked to make sure they are dressed "to move" for the dance portion (no jeans, heavy boots)
Sign up times are required 
Go to the link below to sign up for an audition time:
https://docs.google.com/spreadsheets/d/18xlFaruRDeVmVTjtAE89QIJEwZKk-wIHhS3HUaUDO8k/edit#gid=0
Please come prepared to list any conflicts during the rehearsal period.
Rehearsals will be Monday and Wednesday Nights and Sunday afternoon.
Please note this rehearsal schedule will exclude Easter Sunday ONLY.
Actors are expected to be available for all performances.  
This is a 3 week run.  The performance dates are May 3-19, 2019 
Fridays & Saturdays: 8 pm Sunday Matinees: 2 pm
Please contact Penny Beene at pbwimsey@comcast.net with any questions or concerns.
CHARACTERS:
Senex: An older man, but one still attracted to wine, women, and song, Senex is the perennially henpecked husband. Baritone.
Domina: The battle-ax wife of Senex, Domina is a domineering, but loving, wife and mother out to catch her husband misbehaving. Mezzo-Soprano.
Hero: The handsome son of Senex and Domina, Hero is a lovesick young man who schemes with Pseudolus how he can win the hand (and body) of Philia. Tenor.
Philia: Beautiful, yet dumb, Philia is a virgin courtesan-in-training, already contracted to be sold to Miles Gloriosus, but falls in love with Hero. Soprano.
Hysterium: A slave of Senex and Domina, Hysterium is perennially frantic and frenetic. Pseudolus cons him into helping him with his many schemes. Baritone.
Prologus/Pseudolus: Hero's personal slave, Pseudolus is sly, conniving, and willing to do anything for his freedom. It is this desire that fuels the action of the play. Baritone.
Lycus: The owner of the brothel, Lycus is the charmingly slimy procurer of courtesans. Baritone.
Tintinabula: One of Lycus's courtesans, Tintinabula has "the face of an idol . . . the arms of a willow tree . . . and the pelvis of a camel." Strong Dancer. Any range.
Panacea: Another of Lycus's courtesans, Panacea has "a face that holds a thousand promises, and a body that stands behind each promise." Strong Dancer. Any range.
The Geminae: Twin courtesans, the Geminae are, according to Lycus: "A matched pair. Either one a divinely assembled woman, together an infinite number of mathematical possibilities." Strong Dancer. Any Range.
Vibrata: Another of Lycus's courtesans, Vibrata is "exotic as a desert bloom . . . wondrous as a flamingo . . . lithe as a tigress . . . for the man whose interest is wildlife." Strong Dancer. Any Range.
Gymnasia: Another of Lycus's courtesans, Gymnasia is "a giant stage on which a thousand dramas can be played." Translation: She is tall and athletic. Strong Dancer. Any Range.
Erronius: A befuddled old man who is partially blind and always confused, Erronius spends most of the play searching for his two children who were kidnapped by pirates. Speaks but does not sing.
Miles Gloriosus: A roman soldier, Miles Gloriosus is handsome, strong—and pompous, so much so that he proudly declares: "Even I am impressed." Bass baritone.
ABOUT THE SHOW
Broadway's greatest farce is light, fast-paced, witty, irreverent and one of the funniest musicals ever written. A Funny Thing Happened on the Way to the Forum takes comedy back to its roots, combining situations from time-tested, 2000-year-old comedies of Roman playwright, Plautus, with the infectious energy of classic vaudeville. A Funny Thing Happened on the Way to the Forum is a nonstop laughfest in which Pseudolus, a crafty slave, struggles to win the hand of a beautiful, but slow-witted, courtesan named Philia for his young master, Hero, in exchange for freedom. The plot twists and turns with cases of mistaken identity, slamming doors and a showgirl or two.This unforgettable, hysterical musical allows a terrific ensemble of comedic actors to shine – "something for everyone, a comedy tonight!"