18th Annual Colonial Quickies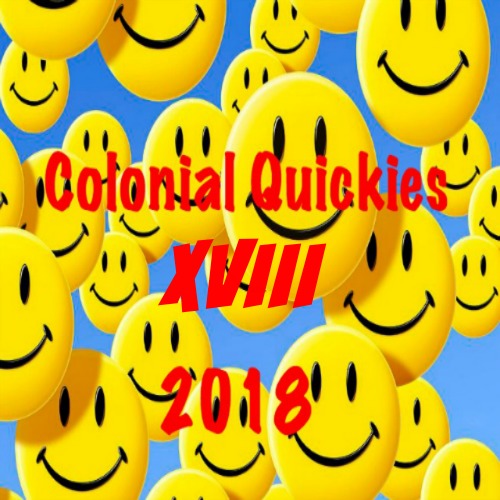 The Quickies turn 18!
Well, after all these years of completely juvenile behavior, we've finally grown up!
Yep, we're 18 (and I like it!), but fear not, nothing's changed.
As we wrap up another outstanding season with our 18th Annual Colonial Quickies, you can be sure that still one more collection of unconventional, fast-paced, very different, and very short plays is right around the corner!
As usual, we'll feature some of our favorite playwrights, along with some new folks whose work we know you'll love!
Don't miss our traditional season-ender!!
Here is the line-up this year:
"Excerpts from Eden" by Rob Carroll
Director: Ron Hill
Starring: Jim Hulme, Brandon Young, Lauren Young, Elizabeth Ellis, Jess McGowan, Jim Copeland
"Pemberton" by Alex Dremann
Director: Sam Barrett
Starring: Cathy Fallon, Ally Batot
"Gel Us" by Paige Zubel
Director: Jessica Kohn
Starring: Gabby O'Neill, Eileen Wiley
"Dora's Dynamic Dates" by Marjorie Bicknell
Director: Brandon Young
Starring: Chelsea Thompson, Jonathan Brunke, Jessica Kohn
"Suicide Help Line" by George Smart
Director: Jim Copeland
Starring: Jen Wolfe, Sam Dressler, Kathryn Leech, Bill Murray
"Salt in the Wound" by Mark Harvey Levine
Director: Erin Friel
Starring: Jim Copeland, Arpy Jones, Ben Kerr, Nancy Reeves, Tom Karolyi
"The Right Stuffing" by James Kassees
Director: Susan Triggiani
Starring: Bill Murray, Erin Friel, John Lockyer
"Domestic Disturbances" by Steven Korbar
Director: Jean Marie Martin
Starring: Julie Lacontora, John Devine, Joe Templeton
*Please note some one acts may contain adult themes and/or language.*